THIS IS OUR TRAINING PAGE, TO SEE OUR TREATMENT IMAGES AND INFORMATION CLICK ON THIS LINK

WWW.BELLAMAI.CO.UK
Welcome,

Bella Mai Academy is a Training School, in Essex. Founded and established by Multi-Award Winning Terri Tibbles, I am also qualified in lots of other hair and beauty treatments, such as Permanent Makeup, Microblading, Scalp Micropigmentation and Paramedical 3D Areola Tattooing as well as being fully accredited to teach and assess, with 12 years experience in the industry. I hold over 100 qualifications. You can see more of my work at www.bellamai.co.uk
​
At Bella Mai Academy we understand the difficulty in deciding where to train. You will want to invest in the best company to train with and get value for money, with highly qualified and experienced tutors.
​
We deliver the correct teaching methods, of the highest standards, but also the most latest methods on the market today. We also deliver training to individuals and salons.
​
Here are some of the reasons we think you should choose us:-
​
Small class sizes, to ensure you get full support throughout your training.
​
We provide thorough training manuals and fully accredited, insurance approved certificates, there are no hidden costs with our courses.
​
Professional, friendly and relaxed working environment.​​
​
All of our tutors are fully qualified to the highest standards and insured.
​
​
Sincerely,
​
​​
Terri Tibbles
​Bella Mai Academy Director
Are your courses accredited? Can i obtain insurance after the course?
---
We are fully accredited with the Associated Beauty Therapists (ABT), they are one of the largest hair and beauty insurers in the UK. We provide thorough training manuals, all our certificates are fully insurance approved. You can check this for yourself by clicking on the picture below and entering our postcode: RM16 4JQ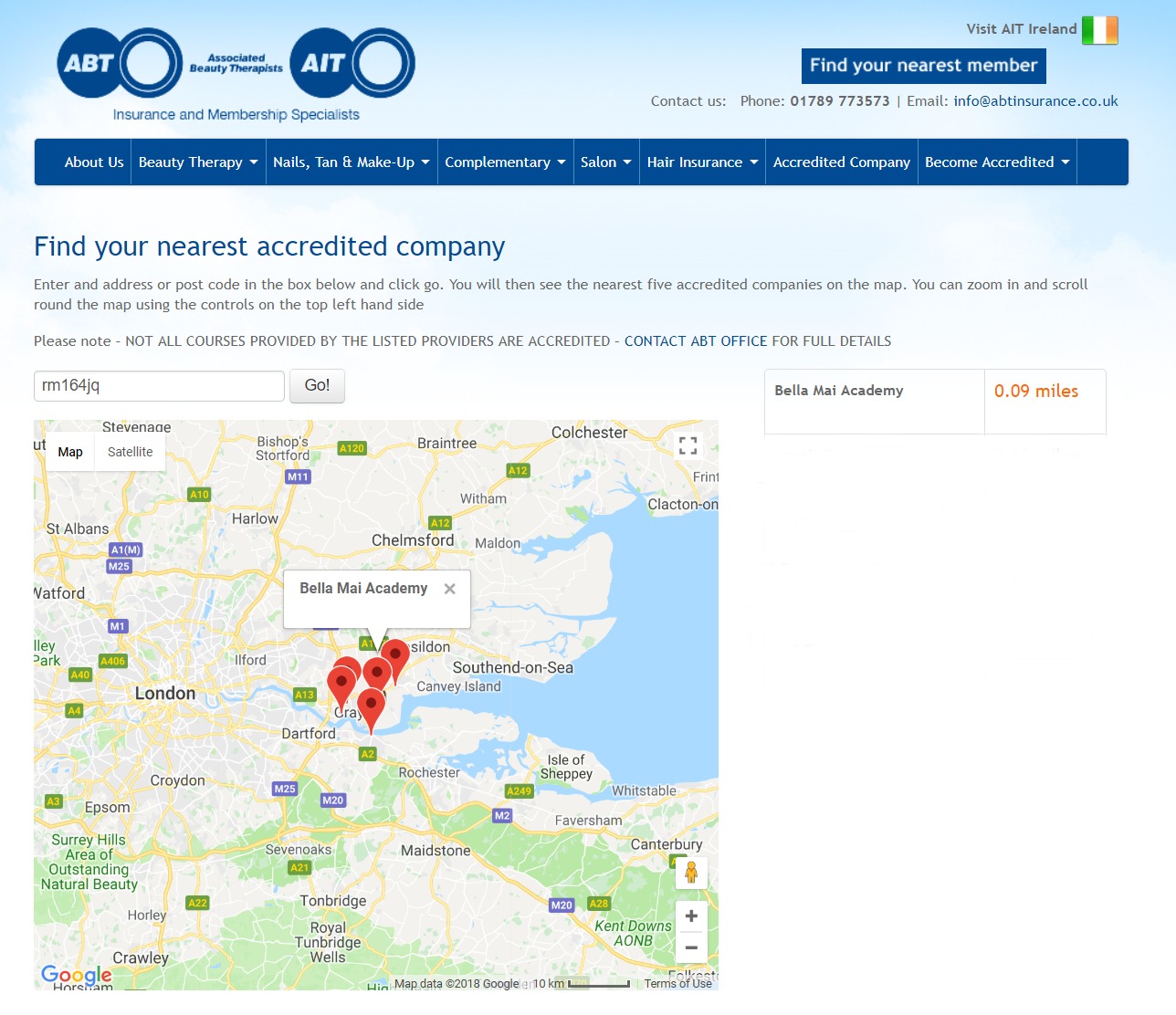 ---
What are your training class sizes?
---
Our class sizes vary, depending on the course. We have 6 students to a class for Dermaplaning, as students work on each other. Permanent Makeup and Microblading we only have 2 to a class to ensure you get full support through out your training, as this is an intense course.
---
Do i need to pay for the course, straight away?
---
You do need to make a deposit for your course, to secure your place. You can pay via bank transfer or paypal. Contact us for more information before you book your course, if you would like to pay via bank transfer. You can pay the course in full or use our finance option.
---
What are the times of courses?
---
We try our best to book courses around our students, some courses this is not possible and they have set dates. You can find these details under courses available at the top of our menu bar. You can also inbox us to arrange dates if you find that easier, as long as we have availability we will do our best to accomodate you.
---
Do i need to bring any equipment?
---
All equipment and products are provided on the day. If your course comes with a kit, that will be provided. Not all courses come with kits, please check each course details.
---
What should i wear?
---
We do prefer you to wear a uniform, black tunic and trousers. If you do not already have a uniform you would need to wear a black top and black trousers. Flat shoes are required with closed toes, to avoid any injury.
---
Do you offer finance options?
---
Yes, we are associated with Pretty Face Finance, where you have the option to pay for your courses over 3,6 and 9 months. Contact us for more details before you book, so we can advise you of the best methods, you can go to our link on their website, click the picture below to be taken to our finance page.
---
What happens if i need to cancel my course?
---
All booking fees are non refundable, if you give us 14 days notice we can transfer the course to another date. If you cancel before this time the course will need to be paid in full. If you fail to attend the course you are booked on and have not given prior notice, then the course fee will remain payable in full and no transfer will be allowed. See our full Training Terms.
---
Why do i need to do an accredited course?
---
So that you can gain insurance. Insurance companies will not insure you, if your course is not fully accredited. Your certificate will be worthless.
---
Will we get confirmation of our booking?
---
Once you have paid your deposit you will receive a booking confirmation email. You will then receive a email with your course details, outling the day and venue details. If you have not received your course details within a week, please contact us.
---
---
FREQUENTLY ASKED QUESTIONS